Kanske har du väntat på böcker som kommer få dina händer att svettas lite extra eller din nervositet att krypa under huden? Här är handfulla böcker som kommer ta dig på en spännande resa mellan hemligheter och svåra val.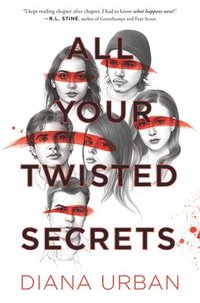 "Welcome to dinner, and again, congratulations on being selected. Now you must do the selecting." What do the queen bee, star athlete, valedictorian, stoner, loner, and music geek all have in common? They were all invited to a scholarship dinner, only to discover it's a trap. Someone has locked them into a room with a bomb, a syringe filled with poison, and a note saying they have an hour to pick someone to kill...or else everyone dies. Amber Prescott is determined to get her classmates and herself out of the room alive, but that might be easier said than done. No one knows how they're all connected or who would want them dead. As they retrace the events over the past year that might have triggered their captor's ultimatum, it becomes clear that everyone is hiding something. And with the clock ticking down, confusion turns into fear, and fear morphs into panic as they race to answer the biggest question: Who will they choose to die?
The world is not tame. Ashley knows this truth deep in her bones, more at home with trees overhead than a roof.
So when she goes hiking in the Smokies with her friends for a night of partying, the falling dark and creaking trees are second nature to her. But people are not tame either. And when Ashley catches her boyfriend with another girl, drunken rage sends her running into the night, stopped only by a nasty fall into a ravine.
Morning brings the realization that she's alone—and far off trail. Lost in undisturbed forest and with nothing but the clothes on her back, Ashley must figure out how to survive with the red streak of infection creeping up her leg.
Liv Fleming's father went missing more than two years ago, not long after he claimed to have been abducted by aliens. Liv has long accepted that he's dead, though that doesn't mean she has given up their traditions. Every Sunday, she and her lifelong friend Doug Monk trudge through the woods to check the traps Lee left behind, traps he set to catch the aliens he so desperately believed were after him.
But Liv is done with childhood fantasies. Done pretending she believes her father's absurd theories. Done going through the motions for Doug's sake. However, on the very day she chooses to destroy the traps, she discovers in one of them a creature so inhuman it can only be one thing. In that moment, she's faced with a painful realization: her dad was telling the truth. And no one believed him.
Now, she and Doug have a choice to make. They can turn the alien over to the authorities...or they can take matters into their own hands.